Gender Equity Student Advisory Board
Welcome our 2021-22 SAGE Members! Members of the Gender Equity Student Advisory Board are engaged in advising the office on policy and prevention education efforts across campus. Please join us in welcoming them to the team!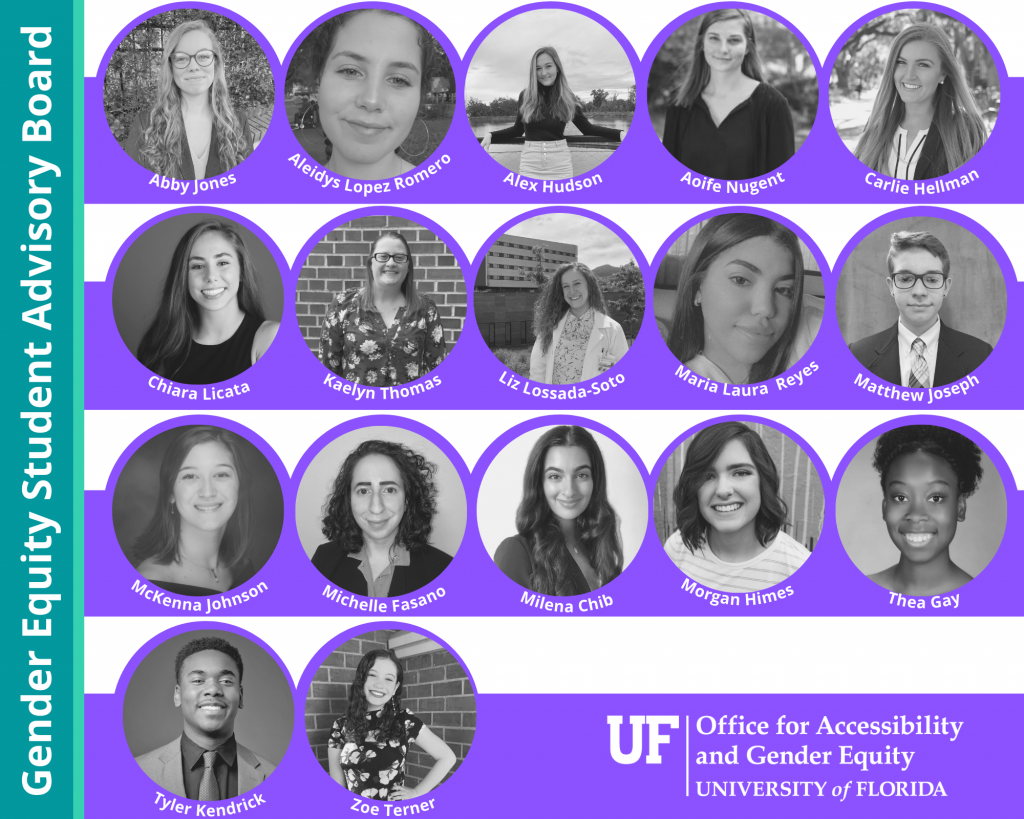 ---
Abby Jones
Abby Jones (she/her) is a third-year undergraduate student studying Education Sciences and Economics. Passionate about educational equity, Abby hopes to write and analyze policy that creates a safe and nurturing environment for all students.
---
Aleidys Lopez-Romero
Hey! My name is Aleidys (she/her). I am a second-year UF student planning to double major in sustainability and women's studies with a minor in International Development and Humanitarian Assistance. My hobbies include weight training, learning new languages, and having picnics with friends.
---
Alex Hudson
Hi, my name is Alex Hudson (she/her) and I am a second-year student majoring in English and Women and Gender Studies. I am very excited to broaden my involvement on campus and promote accessibility and inclusivity as a member of SAGE. Currently, I spend my time volunteering as a student mentor with the Resilience Charter School and participating in different philanthropic events through my sorority. In my free time, I like to read, write poetry, and catch up on the latest Netflix series.
---
Aoife Nugent
Hi! My name is Aoife Nugent (she/her), and I am a first-year student majoring in Environmental Engineering. I am passionate about promoting a safe, inclusive, and equitable campus for everyone and look forward to being able to do so while serving on SAGE. Outside of SAGE, I volunteer through Great Leaps, which is a digital platform used to tutor children in literacy. In my free time, I enjoy going on walks, spending time with loved ones, writing, and exploring new places.
---
Carlie Hellmann
Hi everyone! My name is Carlie Hellmann (she/her) and I am a senior Family, Youth, and Community Sciences major here at UF. I have a minor in Disabilities in Society and am pursuing a certificate in Family Life Education. I have a passion for relationship health and hope to earn a Master's degree in Marriage and Family Therapy. I am the co-founder and acting President of UF's One Love club which is a student organization dedicated to educating the student body on the signs of healthy and unhealthy relationships. I am also involved as Leadership Development Captain for Dance Marathon, an undergraduate research and teaching assistant for the FYCS department, and an active member of Kappa Delta sorority. I am so excited to be serving on SAGE to help ensure equal opportunity for all students at UF and to contribute to creating a culture of care on our campus!
---
Chiara Licata
Hello! My name is Chiara Licata (she/her) and I am a second-year biochemistry major and I am pursuing a minor in sustainability studies. I am interested in either going into medicine or doing some kind of research. My other interests include working out, visiting animal sanctuaries, and cooking vegan food. I am also very passionate about sustainability and working towards equality!
---
Liz Lossada-Soto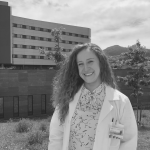 Hi! My name is Liz (she/her) and I am a fourth-year Psychology major with a concentration in Neuroscience and a Health Disparities minor. I have a passion for women's rights and mental health advocacy, as well as a life goal to make healthcare more accessible to more people as a future physician. In my free time, I like to do yoga and listen to podcasts (especially true crime). I am an open book and I love hearing other people's life stories, so feel free to reach out to me!
---
Kaelyn Thomas
Hi! My name is Kaelyn (she/her) and I am a first-year in the Student Personnel in Higher Education program here at UF. I'm from Jacksonville, Florida, but I'm really loving getting to know Gainesville. My favorite thing to do so far is going see the Gators on Lake Alice and get a Latte at Wyatt's Coffee! I'm looking forward to working with my team to create a more equitable and fair space on campus for all of our students.
---
Maria Laura Reyes
Maria (she/her) is a third-year Economics major with a minor in Health Disparities in Society from Miami, FL. Throughout campus, I am also involved with Campus Diplomats, Women's Student Association, Camp Kesem, and Alpha Chi Omega.
---
Matthew Joseph
My name is Matthew Joseph (he/him) and I am a first-year student studying statistics and political science. After I finish my undergraduate, I plan on pursuing graduate education in political science. Equality and accessibility are two issues that I am very passionate about working towards. In my free time, I like working out, making music, and programming.
---
McKenna Johnson
Hello all! My name is McKenna Johnson (she/her ) and I am a first-year botany major, pursuing a career in horticultural therapy. I am passionate about giving back to my community through volunteerism and activism, and I am thrilled to be a SAGE member and have this opportunity to engage with my peers and help create a campus that is reflective of inclusivity.
---
Michelle Fasano
Hello and welcome! My name is Michelle (she/her) and I am currently in my first year as a master's student in the Student Personnel in Higher Education program, and I'm also serving as a Graduate Community Coordinator. Before arriving to sunny Gainesville, I studied anthropology and linguistics as an undergraduate and taught abroad in American Samoa, which has fueled my passion for working with international students and on diversity and inclusion initiatives in higher education institutions.
---
Milena Chib
Hi! My name is Milena Chib (she/her) and I'm a first-year marketing major, pursuing a minor in sustainability. I am currently a part of The Agency, the Florida Women in Business club, and the American Marketing Association. At UF, I hope that I can help make the campus even more inclusive and welcoming for every student. I love spending my time practicing yoga, reading, baking, and learning foreign languages.
---
Morgan Himes
Hello! My name is Morgan Himes (she/her), and I am a first-year Physics student. I decided to serve on the Gender Equity Student Advisory Board because I want to help guarantee that all students feel welcome and safe at the university. In my free time, I am involved in the visual arts, and I love going to concerts!
---
Thea Gay
Hello, my name is Thea Gay (she/her) and I am a passionate student leader looking to help pave the way for a new generation of activism and change. I am currently an undergraduate sophomore student pursuing a degree in sociology with a minor in Public Leadership. I have a strong sense of devotion for helping communities in need and I am excited to be a SAGE member.
---
Tyler Kendrick
My name is Tyler Kendrick (he/him), I am a 3rd-year student studying General Business. I'm from Lakeland Florida, and a second-generation gator. I enjoy playing chess, working out, and singing. The reason I joined this advisory board was to work towards making more resources known & available for student survivors on campus, and I am excited to see what this board can do for the Gator Nation.
---
Zoe Terner
Zoe Terner (she/her) is a third-year student at UF, studying English and Women's Studies and minoring in Sociology and Disabilities in Society. Originally from Lake Worth, FL, Zoe had the honor to join students from her South Florida community in facilitating a gun violence prevention lobby day in the Florida capital in February 2018. Since, she has served as the Social Action Vice President for the Reform Jewish Youth Movement, the founding Director of Program and Strategy for the gun violence prevention organization Not My Generation, and a Legislative Intern at the Religious Action Center in Washington, DC. On-campus, she is a Student Fellow at the Bob Graham Center for Public Service, a Student Government Senator representing the College of Liberal Arts and Sciences, and serves on the Marketing and Programming Teams for the Women's Student Association.