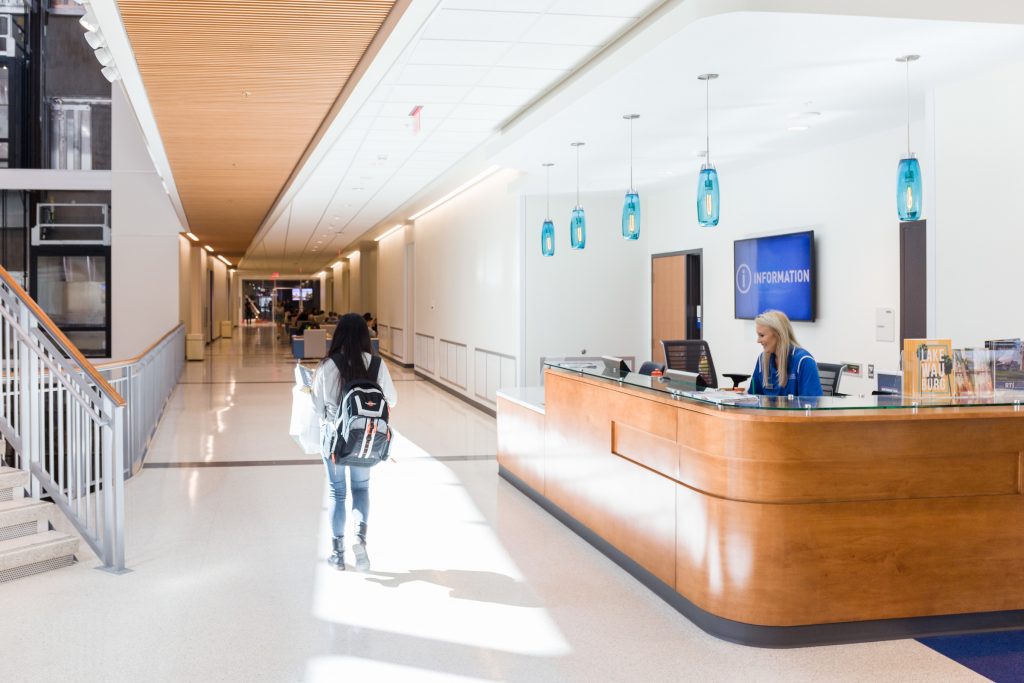 The Office for Accessibility and Gender Equity provides support to anyone affected by  sexual or gender-based misconduct, harassment, or discrimination.
Please use the button below to report incidents of sexual assault, sexual exploitation, sex discrimination (discrimination of the basis of gender identity, gender expression, and sexual orientation), sexual harassment, dating and domestic violence, retaliation, and stalking.  If you or someone you know has been subjected to any of these types of behaviors, let us help.
If you would prefer to speak to someone or require assistance in completing this form, you may contact the Office for Accessibility and Gender Equity directly.
---
How Can I Report Prohibited Conduct?
Make a Report to the Title IX Coordinator

You may file a report with the University if you are seeking support and resources, and/or disciplinary remedies. Anyone who feels that they have been subjected to prohibited conduct is encouraged to bring it to the attention of the University's Title IX Coordinator. They are empowered to provide supportive measures and resources to all individuals involved in these situations and to protect the safety of the campus community.
Officials with Authority to Take Action – Make a Mandatory Report to the Title IX Coordinator

Title IX is a federal law that requires officials with the authority to take action, to report violations of the gender equity policy. Officials with authority must report these violations to the Title IX Coordinator or their deputies. Reports must include any information regarding the alleged misconduct and policy violation, committed by or against a person enrolled at or employed by the university at the time of the incident.
The obligation to report applies whenever an Official with Authority receives, in the course and scope of employment, information about the alleged misconduct and policy violation. The report must include all information known to the employee which would be relevant to an investigation or redress of the incident, including whether the alleged victim has expressed a desire for confidentiality.
---
Additional Reporting Options
Report to Law Enforcement – Criminal Process

If you are seeking criminal penalties, you should file a report with the relevant law enforcement agency. A criminal investigation undertaken by the police seeks to determine whether an individual violated criminal law. An individual who is found guilty of such a crime following a police investigation and a trial may be imprisoned.
 Campus Security Authorities (CSAs) – Make a Mandatory Report
At the University of Florida, maintaining a warm and welcoming campus environment is one of our highest priorities. Campus Security Authorities are a vital part of our institutional effort in working together for safe campuses. Campus Security Authorities are defined by the Clery Act and designated by the University of Florida. Your responsibilities as a Campus Security Authority are straightforward – to report certain crimes identified by the Clery Act that are reported to you which occurred on or around UF campuses and properties.
There are four categories of CSAs, as defined by the Clery Act:
A campus police department or a campus security department of an institution.
Any individual or individuals who have responsibility for campus security but who do not constitute a campus police department or a campus security department (e.g., an individual who is responsible for monitoring the entrance into institutional property).
Any individual or organization specified in an institution's statement of campus security policy as an individual or organization to which students and employees should report criminal offenses.
An official of an institution who has significant responsibility for student and campus activities, including, but not limited to, student housing, student discipline, and campus judicial proceedings. An official is defined as any person who has the authority and the duty to take action or respond to particular issues on behalf of the institution.
Anonymous Reporting
To report potential legal, policy, or ethical conduct violations or concerns, please use the University of Florida Compliance Hotline. You may report without sharing your name. Any reports of sexual based misconduct or gender based harassment or discrimination will be forwarded to the Title IX Coordinator for review. Depending on the amount of information disclosed, the University's ability to investigate and respond to the report may be limited.
---
Contact Us

For more information about gender equity or Title IX connect with our office.